Bespoke Menus
All our menus are bespoke to meet your individual requirements.
Sample menus
To accompany the room hire options available at Mercers' Hall, we offer bespoke catering.
Our menus are produced using quality seasonal ingredients and are delivered by our highly skilled chef and catering team.
Below you will find sample menus and room hire options.
Please do not hesitate to contact our Hall Team should you have any further queries.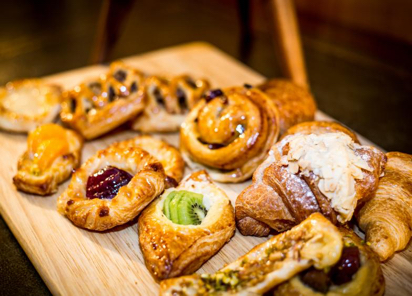 Breakfast Meeting
Breakfast Meeting Menu
Continental
Freshly baked mini Viennoiserie and Danishes.
Assorted home baked mini muffins.
Seasonal fresh fruit platter.
Substantial
Warm floured soft white and granary baps with grilled back bacon and Cumberland sausages.
English muffin with grilled flat mushrooms and scrambled egg (Served with tomato ketchup, brown sauce and mustard).
Healthy
Banana, coconut and mango soya milk smoothie.
English muffin and poached egg, roast vine tomato and thyme.
Homemade bircher muesli, honey, apple juice and dried fruits.
Low fat muffins with oatmeal and bran.
Seasonal fresh fruit brochettes.
Mini granolas with seasonal fruit compote and nut clusters.
Traditional English breakfast
(Choose five items from below)
Scrambled free range eggs.
Grilled vine plum tomatoes with thyme.
Sauteed Portabello mushrooms.
Cumberland sausages.
Grilled back bacon.
Baked beans.
Oak Vale black pudding.
Hash browns.
Served with toast and butter, mustard, tomato ketchup and brown sauce.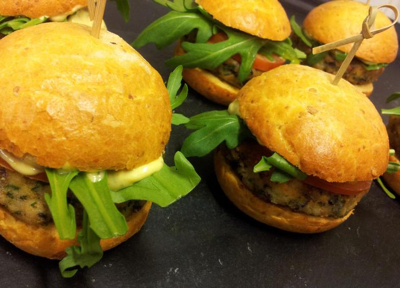 Finger Food & High Tea
Finger Food & High Tea
Sample Menu 1
Merguez sausage hot dog, chilli lamb, sauerkraut, finger bun
Shredded Gressingham duck and spring onion pancakes, hoi sin sauce
Severn & Wye smoked salmon and gruyere 'monsieur'
Poached loch salmon, cucumber and watercress wrap
Butternut squash, hazel nut and smoked chilli puff pastry roll (V)
Coconut and pina colada mousse
Sample Menu 2
Pulled chicken rice patties, BBQ sauce
Aged roast beef sirloin, Yorkshire pudding, horseradish and watercress
Herb crumbed goujons of Grimsby plaice, lemon and tartare sauce
Chilli and lime tiger prawn brochette, ponzu dip
Gruyere cheese, plum tomato and bay spinach panini, red pesto (V)
Baked lemon tart, crème fraiche and raspberries
Sample Menu 3
Savoury muffin of Somerset brie, smoked bacon and redcurrant
Slow cooked Kentish lamb shoulder, shredded gem, spiced aubergine, toasted pitta
Teriyaki loch salmon skewers, citrus crème fraiche
Smoked haddock and English mustard 'Rarebit', chives
Vegetarian sausage, brioche bun, avocado, sauerkraut, chunky apple sauce (V)
Coffee and walnut cake
High Tea
Selection of finger sandwiches including;
Severn and Wye smoked salmon, chive cream cheese and lime
Wiltshire ham and Quickes mature cheddar
Somerset brie and gooseberry chutney
Fruit scones, clotted cream and tip tree strawberry jam
Salted caramel chocolate brownies
Blackcurrant and pistachio slice
Raspberry cream éclair
Carrot cake
Afternoon Tea Cake Selection
(Choose from the following)
Blueberry cheesecake
Apple and cinnamon sponge
Filled English scone
Ruby orange delice
Chocolate fondant
Lemon drizzle bar
Bakewell slice
Apricot gratin
Lemon Madeleine
Coconut sponge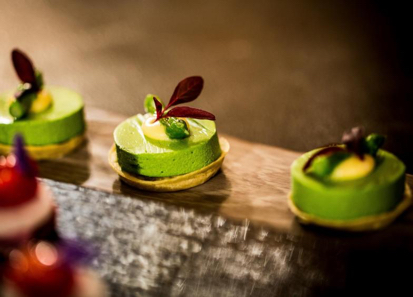 Canapé Menu
Canapé Menu
Meat
Cold
Confit duck, toasted brioche, plum chutney, pomegranate
Mini 'Toad in the Hole', onion chutney
Smoked duck breast, pickled kohl rabi, artichoke pesto, fresh raspberry
Smoked venison, celeriac remoulade, grain mustard, beetroot pearls
Truffled cured beef and Montgomery cheddar 'monsieur'
Hot
BBQ pulled pork and mozzarella arancini
Mini shepherds' pie, sweet potato topping
Mini Cumberland hotdog, ketchup and English mustard
Mini tournedos rossini, beef fillet, foie gras, brioche, shaved truffle (£1 Sup)
Scotched quail egg, mustard emulsion, parsley cress
Fish
Cold
Atlantic prawns, bloody Mary gel, tomato cone, smoked chilli jelly
Cromer crab and seaweed roll, seawater pearls and coriander
Poached loch salmon and mascarpone sesame cone
Seared tuna, pickled daikon, mango salsa, coriander
Smoked salmon & cream cheese blinis, crispy caper & dill
Hot
Shrimp in a rosti potato shell, ponzu dip
Smoked trout, horseradish drop scone and beetroot
Lobster 'Thermidor' spoon (£1 Sup)
Roast scallop, pea purée, crisp bacon, beetroot caviar
White claw crayfish and pineapple croustade, asparagus
Vegetarian
Cold
'Devilled' quail egg, spinach, brioche and shaved truffle
Somerset brie gouger
Rosary goats' cheese, ratatouille, pesto pretzel and basil cress
Truffled wild mushroom tartlet, chive hollandaise
Wensleydale blue cheese and pear cheesecake
Hot
Butternut squash and goats' cheese Arancini, red pesto mayo dip
Marinated halloumi cheese, red pepper and artichoke brochette with Kalamata olive
Oxford Isis cheese and asparagus 'Rarebit'
Parsnip, chestnut and goats' cheese croquettes, aioli dip
Smoked tofu and coriander tempura, ponzu sauce
Dessert
Cold
Amaretto cheesecake, mango pearls
Exotic fruit skewer, pomegranate jelly
Fresh raspberry shortbread
Honey and pistachio Madeleine
Mini banoffee pie
Mini pear and almond tart
Strawberries and cream cone, Pimms' jelly, baby basil
Selection of mini macarons
Triple chocolate brownies, blackcurrant
Mini passion fruit pavlova
Breakfast
Cold
Fresh fruit skewer with mint (V)
Maple pecan granola, yoghurt and mixed berries spoon (V)
Mini ham and gouda croissant
Mini smoked salmon bagel, cream cheese and chives
Sweet potato and red pepper tortilla (V)
Hot
Black pudding and apple croqueta
Kedgeree Arancini
Mini Cumberland sausage baguette
Mini smoked salmon 'monsieur'
Mushroom and thyme falafel (V)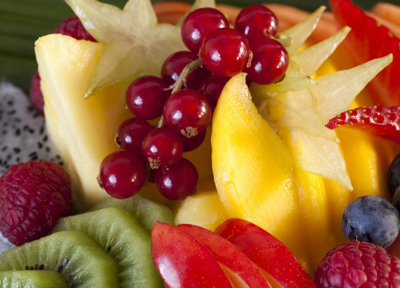 Buffet
Buffet menu
Sample Menu 1
Hereford beef rump, Asian vegetables and black bean sauce
Steamed sea bass fillet, Chinese leaf, ginger, scallions and ponzu broth
Quorn mince moussaka, aubergine and harissa (V)
Boiled jasmine rice
Steamed seasonal vegetables
Egg noodle salad, crisp vegetables, pickled ginger, soy and coriander
Mango cheesecake, macha crème fraiche
Sample Menu 2
Supreme of red tractor accredited chicken, bacon, avocado and rocket
Grilled tiger prawns, lemon, garlic and parsley, tagliatelle 'Verde'
Goats' cheese, baby spinach, squash and caramelised red onion strudel (V)
Red quinoa, pomegranate, pine nuts, peppers and coriander
Roasted new potatoes, thyme and garlic
Creamed white beans, spinach and smoked paprika
Seasonal fresh fruit platter
Sample Menu 3
Traditional steak and kidney pie, puff pastry and parsley potatoes
Poached Scottish salmon supreme, dill and caper dressing, crispy capers and lemon
Grilled artichoke, red pepper and courgette frittata, lemon cream cheese (V)
Creamed desiree potatoes, mature cheddar cheese and chives
Sautéed Mediterranean vegetables, red pesto
Seasonal apple 'Waldorf' salad
Chocolate éclair with vanilla cream filling and white chocolate powder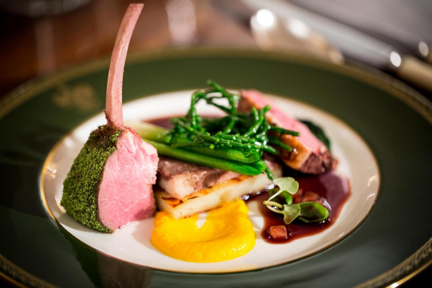 3 Course menu
3 Course menu
Lunch Menus
Sample Menu 1
Celeriac and conference pear soup, white truffle oil, walnut beignet (V)
Ravioli of spiced aubergine served on a terrine of grilled courgettes and gremolata, red pepper gel and olive foam, fennel crisp and dressed mizuna leaves (V)
Poached quince, fresh blackberries and meringue, quince jelly and dehydrated honey (V)
Sample Menu 2
Cornish crab, squid ink tagliatelle, lime & chilli, crispy shallots and coriander cress
Grilled veal fillet, asparagus, truffle and parmesan triple cooked chips, baby watercress, sauce Maltaise
Iced blood orange and white chocolate parfait, orange and pomegranate salsa, praline dust
Sample Menu 3
Home cured Gressingham duck breast, cherry gel, chicory, textures of butternut squash and pickled walnuts
Sautéed smoked haddock fillet, poached egg, lobster bubble n' squeak, broccoli purée, fine beans and a mustard sauce, tomato tuille
Nectarine consommé, fig crisps, floating islands and raspberry jelly
Dinner Menus
Sample Menu 1
Lobster mousse, seaweed, Miso glazed cod, green papaya and pomelo salad, ponzu glaze and seawater pearls, beetroot crisps
Aged beef fillet, braised ox cheek, parsley purée, boulangere potato, stem broccoli and baby carrot, port sauce and crispy leeks
Mille – feuille of mango and lime, green tea ice cream, hazelnut and Szechuan pepper brandy snap
Sample Menu 2
Soused fillet of sea bass, crab croquette, fennel & samphire salad, caviar butter dressing, crispy shaved squash
Cogglehall farm fallow deer, venison liver faggot, roasted root vegetables, elderflower gel, noisette potatoes, sprout petals, crisp cured ham
Baked brioche, lemon and lime curd, textures of Russet apple
Sample Menu 3
Beetroot cured loch salmon fillet, smoked salmon 'monsieur', pea purée, watercress & cream cheese ravioli
Gressingham duck supreme, liver foam, fondant potato, spinach, caramelised fig, grilled courgettes, baby carrots, sauce Grand-Veneur/li>
Pink grapefruit parfait, hazelnut brownie, Campari granita and lemon balm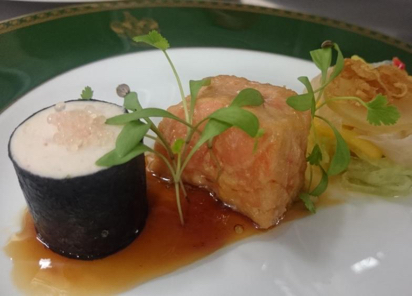 4 course menu
4 course menu
Sample Menu 1
Seared scallops, Tempura oyster, pea purée, roasted chorizo, romescu purée, pea shoot salad, asparagus crisp
Tournedos Henry IV (fillet steak topped with sauce Bearnaise, artichoke heart and noisette potatoes), glazed parsnips, fine beans wrapped in leek, truffled Jerusalem artichoke purée, claret sauce
Pineapple tarte tatin, coconut ice cream and lime vanilla syrup
Serrano ham and Manchego cheese olive toast
Sample Menu 2
Vine plum tomato consommé, Rosary goats' cheese ravioli, summer vegetables and basil (V)
Rump, shoulder and cutlet of Texel lamb, fine herb pomme purée, samphire, shallot tatin, broccoli and Madeira jus
Classic lemon tart, basil sorbet, fresh raspberries, sesame brandy snap
Dressed Cromer crab, baked parmesan basket
Sample Menu 3
Smoked Cornish cod fillet, lobster mousselline, quail egg and spinach purée, Thermidor sauce
Chestnut and chervil stuffed, boned, partridge, thyme braised potato, roasted baby root vegetables, parsnip purée, carrot crisp, sauce Moscovite
Chocolate and caramel terrine served with a bitter chocolate sorbet, and a hazelnut praline and fresh raspberries
Welsh rarebit, poached quail egg, chives