Our role as corporate trustee
Over the centuries, The Mercers' Company has been entrusted with significant charitable gifts and bequests for charitable purposes from Members and other benefactors.
Charities' Net Assets 2018 - 19
The total net assets of the charities for which the Company is corporate trustee or otherwise responsible (the Charities) amounted to £202 million as at 31 March 2019.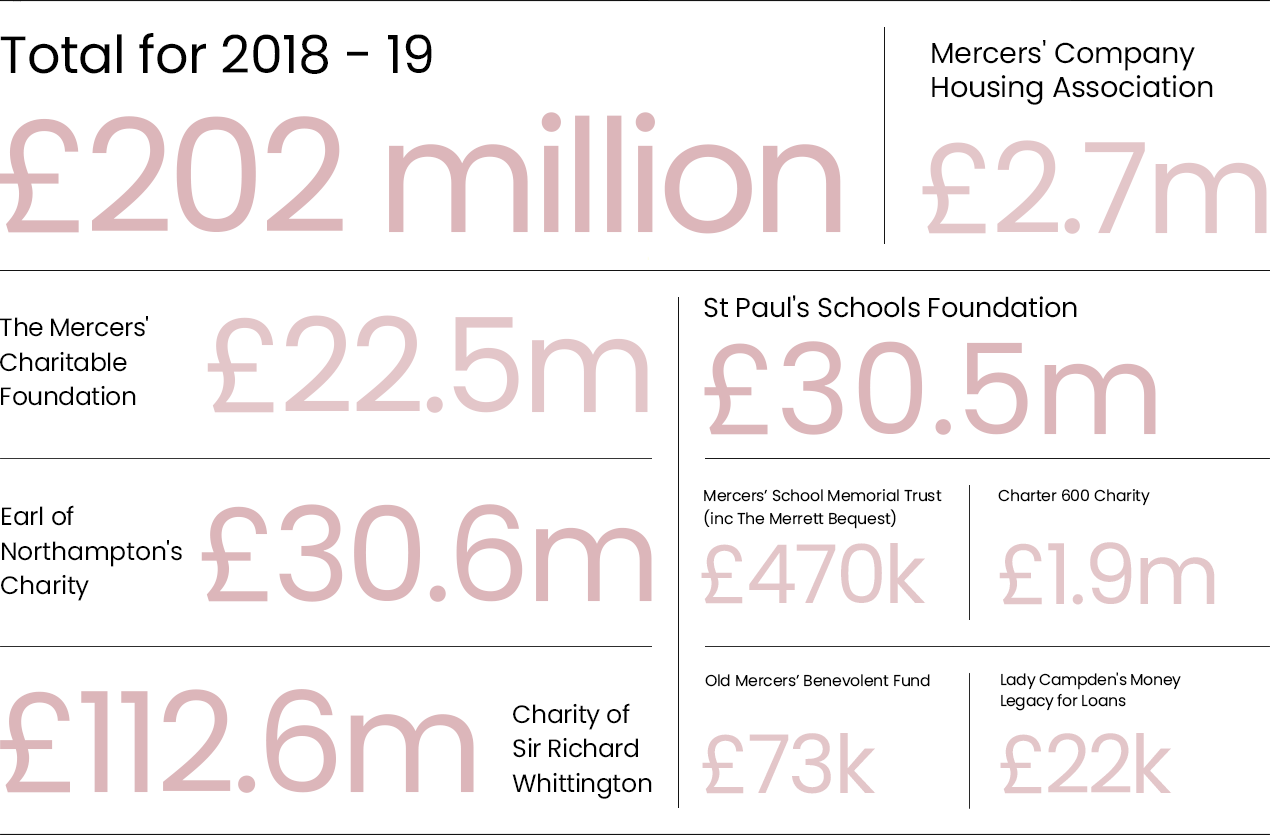 Charities' Income 2018 - 19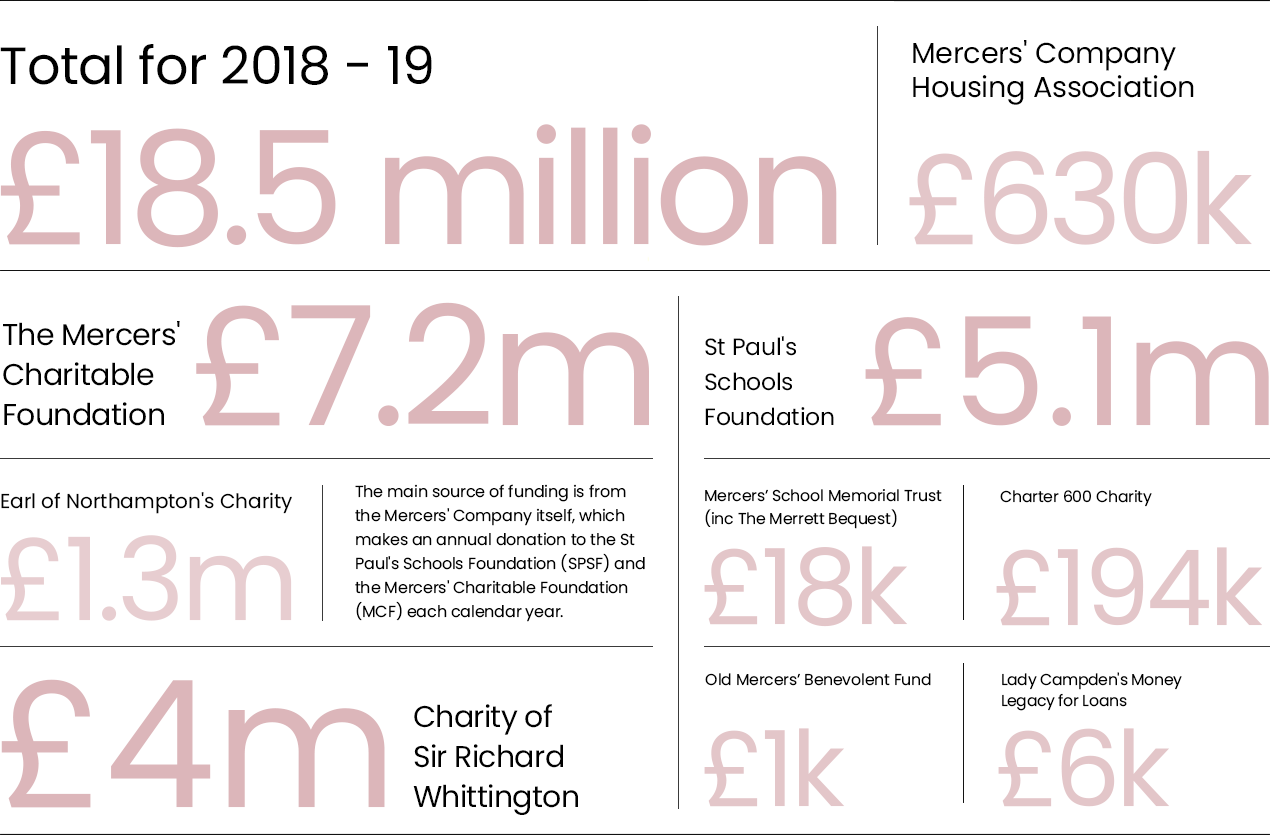 Charities
The nine charities with which we are involved are outlined below.
Mercers' Charitable Foundation (MCF)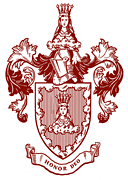 Established: 1983

Registered Charity No. 326340

The Foundation currently has general charitable purposes and makes a number of grants to a wide range of organisations to support our philanthropic work with young people, older people and communities.
The Charity of Sir Richard Whittington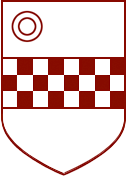 Established: 1423
Registered Charity No. 1087167
The Charity's objects are to:
Provide almshouse communities for the elderly, one in London and one in Surrey;
Support people in need through grants and by providing or paying for goods, services or facilities.
The Earl of Northampton's Charity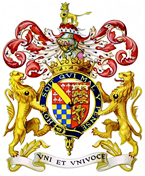 Established: 1614
Registered Charity No. 210291
The Charity's objects are to:
Provide accommodation and support for beneficiaries in its almshouses in Greenwich, London and Shotesham, Norfolk;

Support people in need, hardship or distress.
Mercers' Company Housing Association (MCHA)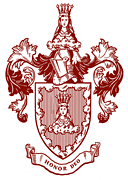 Established: 1983
Registered Charity No. 1172263
MCHA's objects are to provide sheltered accommodation for elderly people at Mercers' House, Islington and Priory House, Clerkenwell, London. The Mercers' Company is the sole Member of the Company and four Members of the Company are appointed as trustee.
The Charter 600 Charity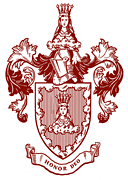 Established: To commemorate the 600th anniversary of the Grant of the Company's first Charter in 1394 and the first Mastership of Richard Whittington in 1395.
Registered Charity No. 1051146
The Charity has general charitable objectives. It is supported by legacies and donations from staff and Members. The Charity makes grants to charitable causes which are known to them or which they are directly involved in. Grants are focused on organisations where relatively small sums can make the greatest difference.
St Paul's Schools Foundation

Established: 1509
Registered Charity No. 312749
The charitable object of the Foundation is 'to promote in Greater London the education of boys and girls and in particular, but without prejudice to the generality of the foregoing, to assist in the conduct and maintenance of schools in or near Greater London.'
The Foundation is best known for its support of St Paul's Schools and St Paul's Girls' School but it also makes grants to London-based educational initiatives. The two St Paul's Schools are separate registered charities but have a long shared history with the Foundation.
Smaller Charities
Mercers' School Memorial Trust (The Merrett Bequest)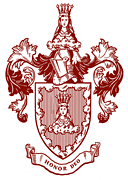 Established: 1984
Registered Charity No. 1091658
The Trust has wide charitable purpose including, but not limited to, the advancement of education and the relief of need to former pupils of the Mercers' School.
Lady Campden's Money Legacy for Loans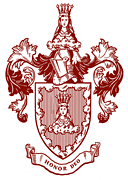 Established: 1961
Registered Charity No. 210292
The Charity's object is to make loans or grants to adults requiring financial assistance to enable them to enter a chosen profession, trade or calling. There is a preference for loans or grants to be awarded to Freeman of the Mercers' Company
The loans do not exceed £1,000 and are for no longer than 10 years.
Old Mercers' Benevolent Fund (OMBF)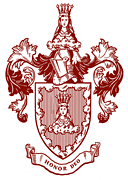 Established: 1980
Registered Charity No. 280208
OMBF was established to support former pupils or masters at Mercers' School or their wives, widows, children or other dependants and whose circumstances mean they need charitable relief.